With your brothers and sisters in co-creative movement, aka Dance Benzie, TONIGHT!
Just two weeks left in October – your last chance to get 6 month member pricing, $60 working, $30 for students. Membership gets you and a guest in every Tuesday. 6 month memberships won't be available again until March 2015, so jump in now for the best deal on the most dancing – almost $5 off the drop-in rate, what?!
How do memberships work in November and December?
Working memberships go up to $70 for November-March and then $80 for December-March. Membership is always going to be more cost effective than the drop-in rate of $7 for working and $5 for students, but joining in the next two weeks is the best deal of all! Here's the breakdown, (click for larger text).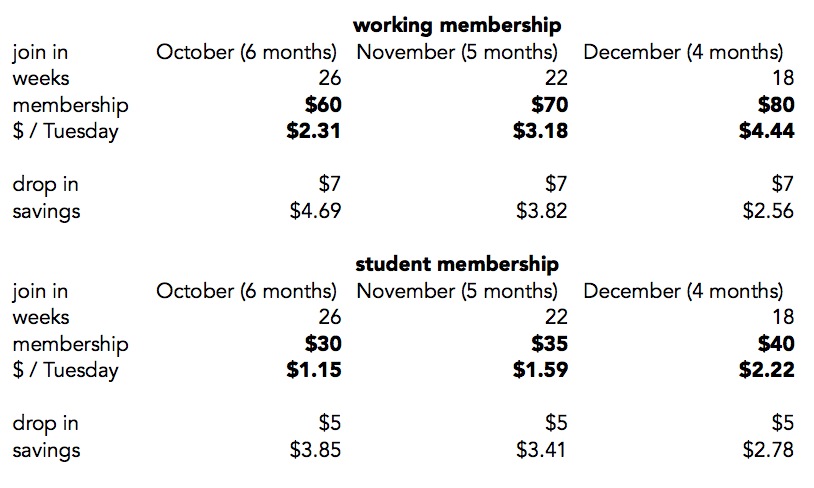 We designed memberships to recruit lots of new dancers this year. We want Dance Benzie to grow fast. The sooner you're in, the better – more fun for all, big savings for you. Join NOW!
Did you know we teach EVERY Tuesday? There are at least 3-4 experienced dancers ready and eager to get you started. Look for Earl, Rebecca, Dan and Ann, we usually say hi right away. We'll give you the basics and then check on you through the night.
This Saturday October 25 is the Phantom at the Opera House Masquerade in Traverse City. Most of Dance Benzie members will be there. Come tonight and dip your toes in some co-creative dancing so you'll be ready for Saturday in Traverse City.
Do subscribe to Dance Benzie for the latest dance updates, (top right at Dancebenzie.com) and pass it on!