Every Tuesday from 7:30 – 10:00 pm at the Mills Community House Theater, get together with the improvisational, connected, co-creative dancers of Dance Benzie. You don't have to memorize steps or styles to partner dance.
By relaxing into a shared center of gravity, you can move with another easily and with grace, even if you've never partner danced before. A few minutes of basic instruction will set you up for hours of smiles – and there are always at least 3-4 experienced dancers who are happy to show you how. We'll get you moving, we're not shy. 😉
Dance Benzie is social, good for your body and most of all – fun! All ages can learn and are welcome, but it's mostly a grown-up thing. You don't need to come with a partner, there are always plenty of people to dance with.
Dance Benzie is the weekly venue for improvisational partner dance in Benzie County. We rent the amazing Mills Community House theater every Tuesday night to gather and grow the local community of dancers, this means YOU.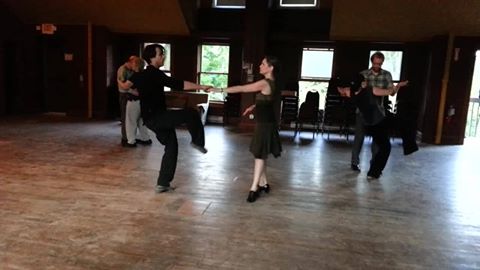 New drop-in rates are $7 for working folks and $5 for students. For those of us who want to dance every week,  (and who doesn't?) that can add up, so Dance Benzie has introduced a hassle free low cost alternative – memberships.
This month, pay $60 and dance right through to March 2015. That's just $2.30 a night, a 60% discount! Even if you come every other week, your still making out like a bandit. Join this October and a 6 month student membership is just $30!
Members get to bring a guest every Tuesday – a new person or someone who can only come occasionally. After coming 3 times, guests can either pay the drop-in rate or become a member.
Members also get discounts on classes and special events, like the live music shindig we're thinking about for the holidays.
Improvisational Partner Dancing (co-creative, connected dance) is a homegrown Northern Michigan innovation. Mykl Werth teaches an excellent semester class at Northwestern Michigan College and hosts open dances Wednesday and Friday nights. Every few months Dance Benzie will host an intensive workshop – either by bringing Mykl down from Traverse City or Zipper Dance's family Shaberg from the UP.
Make Tuesday evenings awesome – become a member of Dance Benzie today. You'll also be helping to sustain an important initiative in Benzie County – bringing local people together for friendship and connection at our LOCAL social dance venue.
Drop ins
regular $7
student $5
Members (October – March)
regular $60
student $30
Be sure to sign up for email updates at http://dancebenzie.com